Step One: Initial Interview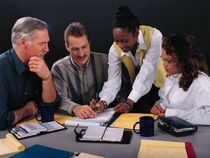 During our initial consultation, we will ask you to share your vision of your new home. We'll ask you what your current needs are, what things you would like to have and what features you dream about.  We'll ask you what features are most important to you and what price range you feel you can reasonably afford. With our home design software and design team we can show you how your home will look, inside and out, and make changes to the plan to suit your needs. With our years of practical experience, we can recommend sensible solutions to everyday needs that can help you achieve the home of your dreams within your budget. 
After years of building, we have developed a process that makes the planning of your new home efficient and productive.  We break the planning process into three phases, Initial Interview, Design Development and Construction.
Prior to our initial interview, you will contact one of our lenders to get started on the financial side of the equation.  This way while we're working on your new home's details, the lender can be formalizing any financing needed to move your new home forward. This can give us a preliminary indication of your budget and you can get comfortable with the amount or payment.  During this initial interview where we discuss your Needs, Wants and Desires for your new home. 
What minimum "needs" do you need to have?  How do you want the rooms to relate to each other, where do you want the rooms to be within the house, how do you want the house to feel and act and what image do you want the house to project to the community, the neighborhood and yourself. 
What are your "wants".  These are features or benefits over the basic needs, such as you want to have tile floors in the kitchen.  These items are balanced with your needs and your budget. 
What are your "desires" for the new home.  These can be materials, design features, products or other items that fulfill the image, feel or statement your home makes. 
This process is where we gather as much information as possible about how you want to live in the home and then determine whether those needs, wants and desires can be best filled by an existing plan we have on file,  customize an existing plan to meet your needs  or a fully custom designed home from scratch. 
We discuss the balance you need to maintain during this process between the three key elements;
1. Architecture and size - this is the simplicity to complexity of the structure and how big the house is as well as how many floors.
2. Materials and finishes used - this defines what makes up the house, it's exterior and interior finishes, it's image and feel.
3. Your budget - this is the number you choose to reach.  It is directly impacted by the other two items.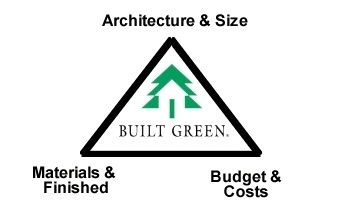 Most people have some level of consideration to a budget.  It is important then that we balance the creative architecture and size of the home with the materials going into the home and the budget.  You typically control any two sides of the equation and the third side is typically a reaction to the other two sides. 

As the builder we can assist you in balancing the impacts of all three sides to make the equation work.  This phase is important because it sets the priorities for the home and is the foundation to move into the next phase.  Extra time spent here pays big dividends in the future.