Step Nine: Construction of Your Home
With many years of experience, we believe the process has become fairly simple.  The construction process typically breaks down into seven general phases.
1. Field locating the house - the house is located on the lot and checked both for horizontal and vertical alignment on the lot.  Access, views and drainage issues are all reviewed.  Adjustments are made and the process moves forward. (Photo of lot)
2.  Foundation Stage - the lot is cleared, the grades are set and the excavation proceeds for installation of the engineered foundation.  The foundation is installed, perimeter drain and radon system are installed as specified.  Backfill is performed and preliminary drainage grading is set.  Under floor plumbing is installed, utility services brought into the house and on grade concrete is set.  The house is now ready to go vertical. (Photo of foundation)
3.  Framing Stage - this is where the skeleton of the house is created.  The structural system is installed to the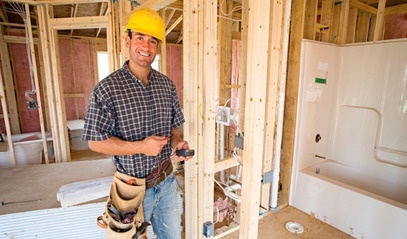 roof.  Mechanical, plumbing, electrical, low voltage and security systems are installed.  Things typically move quickly here. (Photo of framed house)
4.  Dry-in Stage - now the exterior is applied, the roof is installed, insulation set and sheetrock and interior wall finish placed. (Photo of hanging sheetrock)
5.  Finish Stage - the interior of the house begins to take shape.  The interior is painted and the doors and trim are colored and finished.  Preliminary flooring underlayment and topping is placed.  Cabinets are installed, doors and trim are set.  Handrails and closet shelving are installed.  The Heating system made operational, Countertops, mirrors, plumbing fixtures, lighting fixtures, door and bath hardware installed.  Tile, hardwood and other flooring is placed at the appropriate time and finally carpet is placed.  We're almost there. (Photo of trim stage)
6.  Pre-delivery Stage - the house is almost ready.  Everything is set but the house needs to be checked and things need to be adjusted, touched-up or trimmed.  We're ready to have the windows and house cleaned of construction dust and stickers.  Things are tweaked, adjusted, touched up and fine tuned so the house is ready for your to move into.  This may take between four and ten days.  Be patient, we're fixing things because we want to deliver the best product to you that we can.   After this stage we'll do a final Walk-through with you.