Green Design & Construction
Do all Green houses look weird?
Does Green building and design cost more?
Do I need a Green Specialist to build a Green House?

Do all Green houses look weird?
Green house designing starts about the same way as regular design. However, the designer implements green construction techniques as their design evolves. If the designer is not familiar with green construction techniques it is imperative to have a Certified Green Professional, CGP, general contractor (GC) on the team.
The CGP works with a number of trade partners that are familiar with and trained in green construction practices.

The GC can coordinate the design with the knowledge of the trades and the proposed budget of the homeowner. The GC can review how different systems within the design interface to avoid such conflicts as ductwork trying to get thru a structural member.
The CGP recognizes that the house is a synergistic compilation of the parts created by the designer. The ideal is to have this involvement as part of the construction team from the start. Everyone on the construction team has a chance to listen, exchange ideas, contribute solutions to achieve a better outcome for the owner.
The process is called "Integrated Design" or "Design Build". It may involve team meetings at various phases of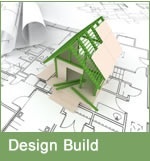 design and construction. This approach can sometimes discover unanticipated cost savings or improved design or construction solutions. This is where issues of visit ability, universal design, accessibility or aging-in-place are discussed at the very beginning.
Obviously certain design characteristics will produce a defined roof line, building angle or different look. This look may not be considered traditional in it's architectural statement. By starting with a proposed design style in mind and integrating the green features and benefits, the designer can work to make the Green house look a lot like the others on the street. It can blend what the house looks like with how the house works and make them both work
together!
Even solar panels or photovoltaic panels can be integrated into the structure to become virtually invisible. Many other green features are less obvious than panels. They are incorporated into the walls, within the systems of the house, part of the low maintenance exterior and inside as part of your sofa or chair. The bottom line is Green Houses do not need to look weird!
Does Green building and design cost more?
Many of the materials, used in sustainable or green construction, cost more in the initial purchase. The systems can be more technical, efficient and interconnected to cost more as well. Common sense would tell you that it costs more to put high efficient, energy star rated, triple glazed, low-E windows instead of simple insulated glass windows. However, locating the right window in the right location for the right reasons can produce results that over time will
same you money and lower your utility bills. The simple triple pane window installed in the proper location can have an impact on the mechanical system design, air conditioning system design and the resulting material and labor to install both. The lower heating and air conditioning load means a smaller furnace and ac system.
Savings can also come in other ways. Targeting your money on more durable materials is cheaper in the long run because they won't have to be maintained or replaced as often. Life cycle cost analysis can help you focus on the total long term costs of construction, maintenance and operation rather than on the initial cost. Energy efficient mortgages will give you more money on your loan because you have lower utility bills! In many cases the extra money saved and a lower interest rate pays for the increased initial cost.
Green building is not an all-or-nothing proposition. If the basics are in place, the house can be improved in phases over time to reach your ultimate goals. If solar panels are desired and in the long term picture, why not install a chase or pre-wire/ pre-plumb for the panels to be installed at a future date when the budget allows?
Do I need a Green Specialist to build a Green House?
A doctor is a doctor is a doctor! However would you like an OBGYN to do brain surgery on you? They are both doctors but have different specialties. A Certified Green Professional Contractor is a must or you may be the learning curve for the non-specialist.
Understanding the science of building construction is important. Understanding the roll of air and moisture

barriers, why there should be a drainage plane behind the siding or the best way to integrate removing stale air and bringing in fresh air into the house is critical.
Many builders learn by tradition and are reluctant to change or try new techniques. "We've done it this way for 30 years, why change now" is not in your best interest. Consumers are learning more today about many different subjects. Information is readably available at the tip of your fingers on a world of subjects. But knowing how to put it all together is important.
Building your Home Construction Team with a qualified green designer, Certified Green Professional contractors and related trade partners that all know about sustainable building is a team destined to succeed.